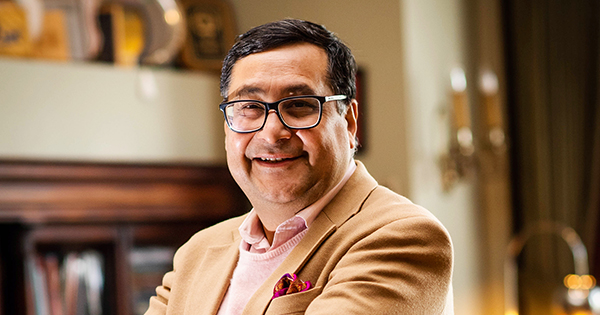 [ad_1]
After a sabbatical, he will resume teaching and research on global climate change
OK, environmental upheaval isn't the only reason, maybe not even the main one. By then, he'll have served as dean for eight years, and Pardee is thriving, which means he's done the job he set out to do. And he would like to devote more of his energies to the classroom.
But global climate policy is a primary focus of Najam's research, and there is urgency about it these days.
"In many ways it's a bad time for the environment, but it's a good time to do something," says Najam. "The amount of attention he has now is off the charts. The desire to contribute at this time is there, when we can hope to have an impact because the political and social noise is there, the scientific urgency is there. So you say, "It's time to roll up my sleeves and do my part too." "
Najam, lead author of the third and fourth assessments of the Intergovernmental Panel on Climate Change, which won the 2007 Nobel Peace Prize for advancing public understanding of climate change for its science panel, is a widely recognized specialist in global climate change policy in country development.
Even setting climate change aside, Najam is eager to step down from administrative duties and, after a sabbatical, return to full-time research and teaching. "I've always insisted that what drives me is really the classroom and research, and I want to go back there before I have to be dragged outside," he says with a smile.
Professor in the Faculty of Arts and Sciences of International Relations and Land and the Environment, he joined the BU in 1997 and was appointed inaugural director of the Pardee School in 2014. He was director of Frederick S. Pardee Center for the Study of the Longer at the BU. -Future range from 2007 to 2011.
Frederick S. Pardee (Questrom'54, '54, Hon.'06) donated $ 25 million in 2013 to endow the Pardee School of Global Studies. Today, the school, headquartered at 121 Bay State Road, has 40 full-time or affiliate faculty members, more than 900 undergraduate and graduate students, five undergraduate majors, and eight minors. , and several graduate programs. Undergraduates can study International Relations, Latin American Studies, or Muslim Societies / Muslim Cultures, among others, while graduate programs include a Masters in Global Politics and dual degree programs corresponding to a Masters in International Relations with a law degree from the Faculty of Law or an MBA from the Questrom School of Business.
"As the global nature of its mission becomes more and more important with each passing day, the future of the school improves accordingly," wrote Jean Morrison, president of the university and director of studies, in a letter to the university community announcing Najam's decision. "Professor Najam was instrumental in all of this, and we thank him for his leadership.
"He has been a community builder," she said, "whose emphasis on political leadership, intellectual rigor and collaborative partnerships has helped the Pardee School produce highly relevant research and programs. which advance its main mission of improving the human condition.
Najam says the school built on existing strengths at BU, such as international security and diplomacy. And he has developed in-depth expertise in the problems of countries in the South or in developing countries, and in growing areas of study in the field of gender and justice.
"We consciously said we had to cover the whole world. You can't have one person in every country, but certainly on every continent and every region, "says Najam.
And in each area, Pardee's expertise spans both traditional and new approaches, adding issues such as the environment and migration, expanding the usual geopolitical concerns beyond the military and diplomacy. "If you think about the way we talk about security, for example, we have Jack Weinstein [a professor of the practice of international security and a former Air Force lieutenant general] to people like Jessica Stern, [a research professor] who works on war and terrorism, to people, like me, who work on human security – water insecurity, climate insecurity, COVID. This morning I was giving a conference [remotely] at the National War College on Climate Insecurity.
---

What gives me pleasure is really class and research, and I want to go back there before I have to be dragged outside.

---
It is a necessary approach for a 21st century school of international relations that wants to tackle the big problems of the world, he says, which tend to have three characteristics: they are global, they are long term and they are interdisciplinary.
"It's a good time for school," says Najam. "I think it's a good place for new leaders to take the next step. My job was to create something.
"Before you know it, you blink and it's been eight years since the school was established and we've been recognized all over campus," he says. "People no longer ask what Pardee is or confuse us with someone else. And our faculty is fantastic, so on the outside it's much more recognized that Boston University has a school. international affairs People think we are much older than we are!
A national search is planned to find the next dean, and several faculty members will soon be appointed to a research advisory committee. It is hoped that the committee will complete its work by April 2022, with a new dean appointed shortly thereafter.
"Now is a good time for someone new to come in," said Najam. "We are doing well financially and in the quality of students, and in some ways not fully planned. The hope is that by the time I step down, the dark clouds of COVID are behind us. It would be a good time for a regeneration. So now is the right time to pass the baton on to the next person.
[ad_2]