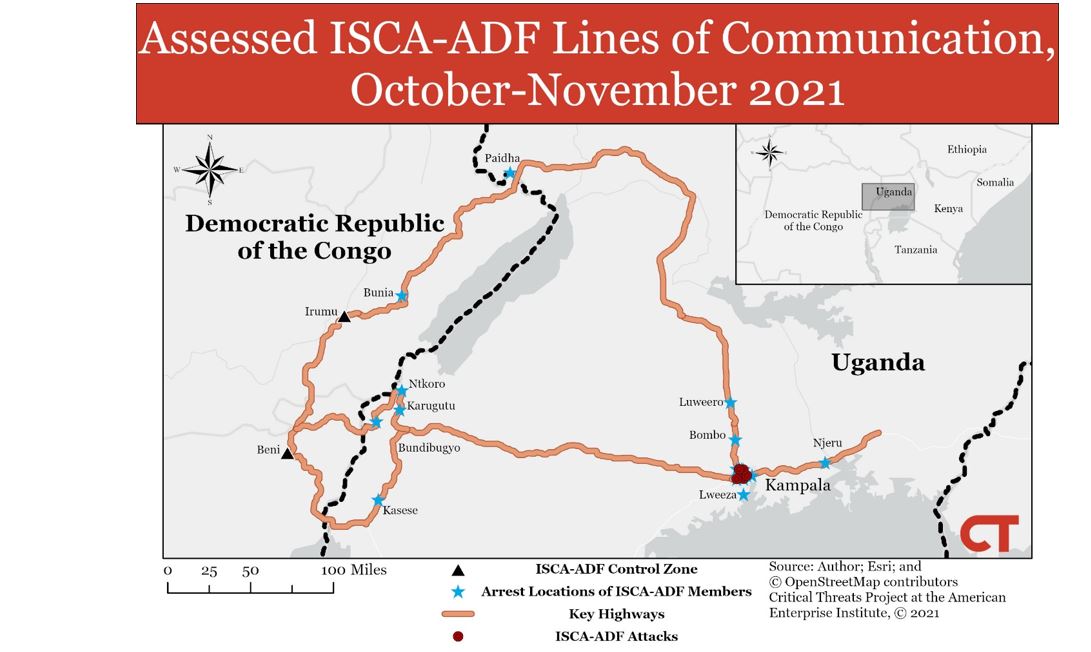 Africa dossier: Islamic State bombings in Uganda challenge East Africa's counterterrorism response
[Notice: The Critical Threats Project frequently cites sources from foreign domains. All such links are identified with an asterisk (*) for the reader's awareness.]
To receive the Africa Dossier by e-mail, please subscribe here.
To remember : the Islamic State Central African Province – Allied Democratic Forces (ISCA-ADF) will challenge the Ugandan government and could threaten counterterrorism cooperation in East Africa. The Ugandan government must degrade the capacity of ISCA-ADF without alienating local populations or emboldening Salafist-jihadist groups in East Africa.
ISIS claimed responsibility for its first attacks in Uganda with several bombings in October and November 2021. Central African Province – Democratic Allied Forces of the Islamic State (ISCA-ADF) led two improvised explosive device attacks in Kampala, the Ugandan capital, on October 8 and 25.[1] Ugandan authorities have also blamed the group for a *suicide bombing in Kampala on October 23. The campaign intensified with suicide bombings who killed three people in the capital on November 16. This campaign of attacks signals an increase in the capabilities of the Islamic State in East Africa.
ISCA-ADF is a subsidiary of the Islamic State based in the northeast of the Democratic Republic of Congo (DRC). Many Congolese and Ugandans call the group by its original name, the Allied Democratic Forces (ADF). Ugandan Salafist-Tablighi Muslims and a Ugandan Rebel Group based ADF in 1995 and based its operations in northeastern DRC. The group still attracts mainly Congolese and Ugandan members but has suffered a ideological change and become more integrated into transnational Salafi-jihadist networks since a new leader took control in 2015. The ADF established links with the Islamic State in 2016 and became part of the Central African Province of Islamic State in 2019.
ISCA-ADF a opposite the government of Ugandan President Yoweri Museveni since the formation of the ADF. Pressure from Ugandan security forces has historically limited the group's activity in Uganda. The group has maintained its anti-Museveni objective from its base in the DRC and has regularly attack in Uganda until 2017.
ISCA-ADF carried out its recent attacks using lines of communication along the roads that connect Kampala to the group's base in northeastern DRC. Almost all *arrests by ISCA-ADF *cells since the November attacks *occurred along the A109 motorway and smaller highways that connect northeastern DRC to Kampala. Ugandan police report that the suicide bombers and most of the officers arrested are Ugandan nationals. These extended lines of support indicate that ISCA-ADF can smuggle supplies and people across Uganda.
Figure 1. ISCA-ADF communication lines assessed, October-November 2021
Source: author; Esri; and © OpenStreetMap contributors
American Enterprise Institute Critical Threat Project, © 2021
Trainers from the Islamic State likely helped ISCA-ADF build capacity for the simultaneous suicide bombings of November 16. ISCA-ADF has started to conduct suicide bombings in northeast DRC in June 2021. The group's inexperience indicates that outside training was likely needed to prepare bombmakers and operational planners for the near-simultaneous bombing of Kampala on November 16. President Museveni noted, in a December 6 interview, that militants based in Somalia and Kenya likely aided the November 16 suicide bombers.
Museveni's comments may refer to the Islamic State in Somalia (IS-Somalia). IS-Somalia would have functions as a logistics hub and source of training and ideological guidance for the Central African Province of the Islamic State, including ISCA-ADF and the Islamic State in Mozambique (IS-Mozambique). ISIS personnel have trip between Somalia, DRC and Mozambique. Recent reports from Islamic State trainers *job with IS-Mozambique increase the likelihood of similar investments in ISCA-ADF.
Museveni's statement may also have referred to al-Qaeda affiliate al Shabaab, which has ties to the ADF that predate the latter's ties to the Islamic State. Al Shabaab's fierce opposition to the Islamic State, however, makes this level of support for Al Shabaab unlikely.
Uganda will most likely maintain its regional security commitments while stepping up counterterrorism operations in Uganda and northeastern DRC. Ugandan army has started launch Air strikes targeting ISCA-ADF camps in northeastern DRC on November 29. Uganda then started *moving troops in the region with the support of the DRC government in early December. Ugandan police also did *arrests which will hamper the capacities of ISCA-ADF cells inside Uganda.
A backlash from the Ugandan government risks alienating Ugandan Muslims and inadvertently bolstering ISCA-ADF recruitment. Some Ugandans condemned the extrajudicial *murder of a religious arrested suspected of having recruited for the ISCA-ADF on November 17. The US State Department and international organizations have also reported that Ugandan security forces matter Salafist-tablighi Muslims in various *extrajudicial Actions. United States sanctioned Ugandan military intelligence chief for human rights violations on December 7.
Continued ISCA-ADF attacks could cause Uganda to lose priority in its participation in the African Union Mission in Somalia (AMISOM). This scenario is less likely but dangerous. Uganda contributes the most troops to AMISOM, to supply about 5,800 of the 19,600 AMISOM troops in Somalia. The Ugandan contingent operates in areas of strategic importance, including Mogadishu and the Lower Shabelle region. Already President Museveni *threatens withdraw its troops in September 2021 due to political instability in Somalia.
Museveni is probably also unhappy with AMISOM's international support. The United Nations and the European Union rejected a proposal supported by Museveni to make AMISOM a joint African Union-United Nations force in 2021. The EU also intends to reduce AMISOM funding in 2022. Museveni threatened to pull out if the UN cut funding in 2019, but he never followed through on his threats to pull out. A sustained ISCA-ADF campaign in Uganda or increased Ugandan military activity targeting the group in northeast DRC, however, could change his count.
The increased pressure on Ugandan security forces comes as AMISOM's future becomes increasingly uncertain. Negotiations on relations between the African Union, international donors and the Somali federal government have stalled. AMISOM's current mandate expires at the end of 2021. A Ugandan withdrawal from AMISOM remains unlikely but would be the worst-case scenario for AMISOM. Other AMISOM troop contributors are unlikely to close the gap, especially as another AMISOM contributor (Ethiopia) remains embroiled in its own conflict. Somali forces are not yet able to take full responsibility for the security of the country. A tense Somali election could also spark infighting between Somali security forces which would exacerbate the situation. An untimely and ill-coordinated withdrawal from AMISOM would cede large swathes of southern Somalia to al Shabaab and leave Mogadishu vulnerable to a resurgence of al Shabaab attacks.
A sustained threat from ISCA-ADF against Uganda will undermine the Ugandan government's response to internal security and could also strain its commitment to regional counterterrorism missions. The Ugandan government must pursue a balanced approach that degrades the capacity of ISCA-ADF without overreacting and without alienating local populations. A prolonged campaign against ISCA-ADF risks diverting Ugandan resources from AMISOM, encouraging al Shabaab in Somalia.
---
[1] SITE Intelligence Group, "IS Claims 1st Attack in Uganda, Takes Credit for Bomb Blast on Police in Kampala", October 8, 2021, available by subscription at www.siteintelgroup.com.
View quotes