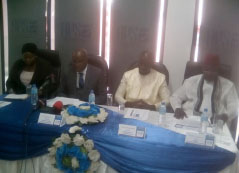 The ceremony took place at their headquarters in Bijilo. Islamic microfinance aims to foster the economic well-being of middle and low incomes through sustainable, fair and transparent financial services solutions, driven by resourceful staff using digital means that promote financial inclusion and mitigate social injustice and poverty.
During a recent press briefing, Dr Saikou Jabbi, vice-governor of the Central Bank of The Gambia (CBG), said Islamic finance, despite its name, is not a religious service reserved for Muslims only.
He explained that this is a financial service intended to meet the requirements of a specific group of investors.
"Islamic finance is bound by the Islamic law and practice of the Prophet Muhammad. The principle of Islamic finance is based on the prohibition of interest, gambling and speculative trading, while encouraging partnership and risk-sharing in contracts between financial institutions and clients, "he said.
Commenting on the importance and uniqueness of Islamic finance, he said that many central banks in the sub-region saw the need to develop Islamic finance for many reasons, including improving the process of financial inclusion. to respond to a large unbanked and underbanked population in the formal financial sector, and to mobilize deposits cheaply to finance growth and development.
Momodou Joof, managing director of APS, told reporters that the traditional model of conventional microfinance did not fully take into account the endemic nature of financial exclusion and that the purported use of access to microfinance as a means of combating poverty and social injustice has proved effective so far. .
He added that at the moment, financial inclusion in The Gambia still stands at around 20% despite the high number of commercial banks.
"This is why the introduction of APS Islamic microfinance with fully Sharia-compliant products and services gives the public an undeniable opportunity to move away from interest-based finance and risk the wrath of our creator. "
With the launch of APS Islamic Microfinance, he said there was no excuse for the country to lack fully Sharia-compliant financial services.
MD Joof assured that APS is ready and committed to collaborate with like-minded development partners at local and international levels to promote financial inclusion, poverty reduction and economic development.
Imam Ousman Jah, chairman of the board of APS Shariah, said the financial service would help reduce poverty in the country, adding that the financial service is not only limited to Muslims, but all can use it regardless of their religion and nationality.