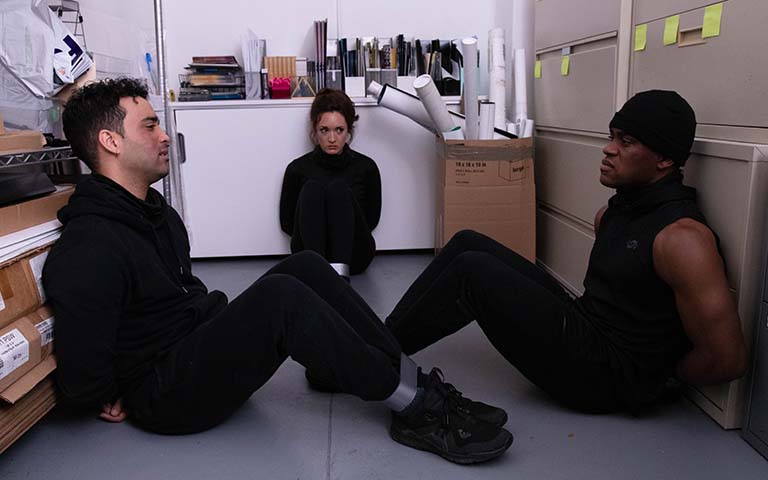 At the beginning of January 2020, the former student of the School of Dramatic Art Hassiem Muhammad set himself the goal of creating an original work by the end of the year. While many might forget their annual resolutions by Valentine's Day, Muhammad – who has always been goal-oriented – wrote the first episode in two months. The completed first season airs this month, and viewers can stream the first of six episodes on October 30, 2021 at 8 p.m. on the series' Youtube channel.
What started as an idea about the vigilantes defending Uptown Manhattan has grown into a six-part web series which Muhammad says is based on a few of his favorite action series and movies like "Luke Cage", "Arrow "and" Kick-Ass ". In every aspect of the production process, from co-collaborator Ebony Sojourner to co-star Catherine Calloway to many cast and crew members, Muhammad reached out to the alumni network of the UNCSA which he built during his time as a student.
Here Muhammad reflects on the process of creating this series from start to finish and the many lessons he learned along the way.
It all started with an idea
Thinking back to the beginning of the creative process, Muhammad had several different sources of inspiration when creating "Angels of Uptown" and one of them wanted to be part of an action series. "I've always wanted to star in an action movie or a series, and I'm the type of person who, when an opportunity doesn't present itself, I take it upon myself to create that opportunity."
Muhammad was also inspired by his favorite aspect of his undergraduate experience at UNCSA: the intensive arts. "We wrote and created original plays and performed them for our classmates every year and I always enjoyed that moment where I got to tell new and original stories," he recalls. After graduating, Muhammad was a 2018 Kenan Fellow with Lincoln Center Education, which he describes as a "fifth year of intensive arts" as it was another chance to focus on creating in a stimulating and challenging environment. educative.
When the pandemic struck in March 2020, Muhammad was out of work and had more free time than he ever had before. This time was his ultimate inspiration for the project: "I went from wanting to create a role that I would appreciate for myself, to having no roles available across the industry, so I felt I needed to create something to stay active. . "
Although Muhammad acknowledges that there was no "correct" way to get through quarantine and stay-at-home warrants, he says he is the type of person who needs to stay productive. "I knew that if I hadn't used all this free time to create something that I was proud of, I would have been disappointed in myself," he says. During his quarantine weeks in New York, Muhammad spent his days writing, training and reading. In June, he had written six episodes.
Assemble the right actors and the team
After Muhammad wrote the first episodes, he brought in Ebony Sojourner (BFA Filmmaking '18), co-collaborator and graduate colleague of UNCSA (BFA Filmmaking '18), who was co-writer and producer of series. Together, they plan to film the pilot in the summer of 2020.
Muhammad served as the casting director for the entire series and started the process by introducing himself and two friends as the main characters, saying "I had written each main character with each actor in mind, including myself. ". He first called on Catherine Calloway (BFA Drama '18) to play Tara. Muhammad explains that he wanted two of the main characters to be a black man and a white woman because he feels they are close to each other in the hierarchy of privilege in American society. "White women and black men have this interesting leaf with each other in that white women have white privilege and black men have male privilege," says Muhammad, adding that during the writing process, he wanted to keep the themes of racism, sexism and social justice at the top. of mind for each episode.
After starting Calloway, Muhammad reached out to Michael Alvarado, a friend he met during a summer program at the Neighborhood Playhouse, for the role of Manny. Adding Alvarado to the cast not only meant working with one of his best friends, but with the addition of an Afro-Latino actor, Muhammad felt it helped make the show more authentic for the locals of Uptown. Manhattan.
After the initial casting, Muhammad began contacting people he knew to see who would be interested in participating in the project. A main focus throughout the casting process was to focus on diversity, although that wasn't always easy to do. "I knew I wanted a diverse cast, but it's a show that by nature has' heroes' and 'villains." Mohammed explains. "I didn't want all villains to be people of color, so I did my best to find some kind of balance there. "
One lesson Muhammad learned throughout the casting process that he will take with him in his acting job is that being prepared and submitting materials on time matters a lot to producers. "Obviously technique and acting skills are very important, but the other things that show you're a good person to work with go a long way," he says.
When it came time to bring the team together, Muhammad drew on Sojourner's knowledge and connections within the film industry, as well as many alumni they had both worked with at UNCSA. .