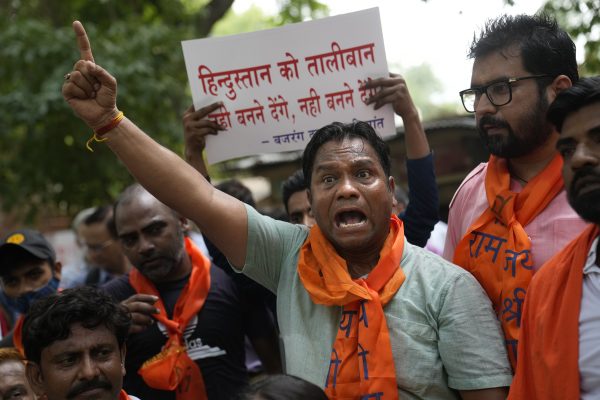 Right-wing Hindu party activists protesting the killing of Kanhaiyalal, a Hindu involved in an alleged religious attack in the western city of Udaipur, shout slogans in New Delhi, India, Wednesday, June 29, 2022.
Credit: AP Photo/Manish Swarup
On June 28, two Muslim men entered the shop of a Hindu tailor, Kanhaiyalal, in Udaipur, western India, and killed him with meat cleavers. They filmed the gruesome attack, claimed responsibility for the murder, even identified themselves by name as Mohammed Riyaz Akhtar and Mohammed Ghous, and then released the video online.
The killing, they said, was to defend their Islamic faith. Akhtar and Ghous said they killed Kanhaiyalal over a social media post supporting comments by now-suspended BJP spokesperson Nupur Sharma insulting the Prophet Mohamed and Islam. Sharma's comments had sparked a tidal wave of rage across the Muslim world.
Akhtar and Ghous were arrested the night of the murder. Treating the attack as a 'terrorist incident', the Union Home Ministry dispatched a team from the National Investigation Agency, India's counter-terrorism task force, to investigate the killing and more importantly there were international organizations and connections behind the attack. The NIA filed a case against Akhtar and Ghous under the Unlawful Activities (Prevention) Act (UAPA), an anti-terrorism law.
If we define terrorism as violence, whether by state actors or not, that is premeditated and politically motivated, and whose target is not just the immediate victim but the community at large, then the Kanhaiyalal's macabre murder can be treated as an act of terrorism. Akhtar and Ghous didn't just want to assassinate Kanhaiyalal but broadcast it. Terrorism is violence with effect; NIA officials said the duo wanted to "sow terror among the masses across the country."
The police did well to quickly arrest Akhtar and Ghous. The NIA was right to slap the duo with charges under the UAPA.
However, Indian authorities, whether at the federal or state level, have rarely shown such alacrity or efficiency in countering the violence of Hindutva militants, which can also be characterized as terrorism. Indeed, it is rare that such killers are even called in India for what they are – terrorists.
Attacks by Hindutva militants against Muslims have increased dramatically since the Hindu nationalist Bharatiya Janata Party (BJP) came to power in 2014. Muslim homes, businesses and places of worship have been burned or bulldozed . Hindutva outfits harassed, burned or beat to death hundreds of Muslims, often in the name of defending Hindu values ​​and culture. For example, the Bharatiya Gau Raksha Dal (BGRD), whose militants are also members of Hindutva groups, claims that their attacks on Muslims (who are beef eaters) are aimed at protecting cows, which Hindus consider as sacred.
BGRD gangs have lynched dozens of Muslims to death and, like Akhtar and Ghous, they are recording videos of these gruesome killings and posting them online. As I argued in a 2017 article in The Diplomat, their violence qualifies as terrorism. But these killers are called "gau rakshaks » (cow protectors) and not "terrorists". None of the attackers have been charged under the UAPA. In fact, few have been arrested.
Unlike attacks by Islamist extremists, where the perpetrators are quickly arrested and charged, when Hindu extremists are involved the wheels of justice have moved slowly, if at all. The defendants roam freely, some even being rewarded with seats in parliament.
Abhinav Bharat, a closed group of right-wing Hindu activists, which was implicated in the Samjhauta Express and Mecca Masjid terror attacks in 2007 and the Malegaon blasts in 2008, is not on India's list of banned terrorist groups. Indeed, a list of 36 individuals designated as terrorists under the UAPA does not even include a single Hindu.
A week before Kanhaiyalal's murder, Umesh Kolhe, a chemist in Amravati in Maharashtra, was stabbed to death. He was allegedly killed for a message supporting Sharma's comments. Seven men were arrested. On Wednesday, police arrested a cleric, Syed Salman Chisti, for posting an online video offering his house and other possessions as a reward to anyone who beheaded Sharma.
India can expect an upsurge in terrorist violence in the coming months. Uneven enforcement of the law will only accelerate this push.