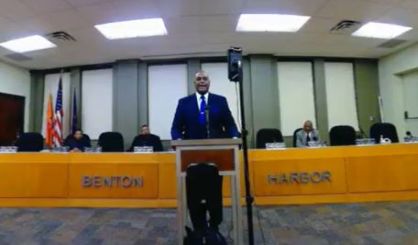 Benton Harbor is a city in transition. It's a message from Mayor Marcus Muhammad, who delivered his annual State of the City address on Tuesday. Muhammad said that as the city moves into the future there will be growing pains and it is important not to leave people behind. He spoke about the city's ongoing lead problems, telling residents that the city's mission will not be complete until all lead water pipes are replaced.
"The City of Benton Harbor has allocated $33 million to address the problem of lead service lines in the City of Benton Harbor," Muhammad said. "We have recruited contractors, and they are already in the field to eliminate the lead."
Muhammad highlighted recent achievements, saying the Department of Community and Economic Development has expanded, new housing developments are coming, the summer youth program has been reinstated and work is underway. to repair the streets of the city.
"We will have a schedule, a monthly schedule and a weekly schedule online, and the city manager, we will work closely with him to let residents know when we will be working and coming to a block near you."
Beyond the water crisis, Muhammad said the city will eventually work to help residents replace lead water pipes that may be inside their homes, going beyond the simple line from the street to the house. He also noted that the city has nearly $6 million in federal ARPA funds that will be used for more infrastructure work.