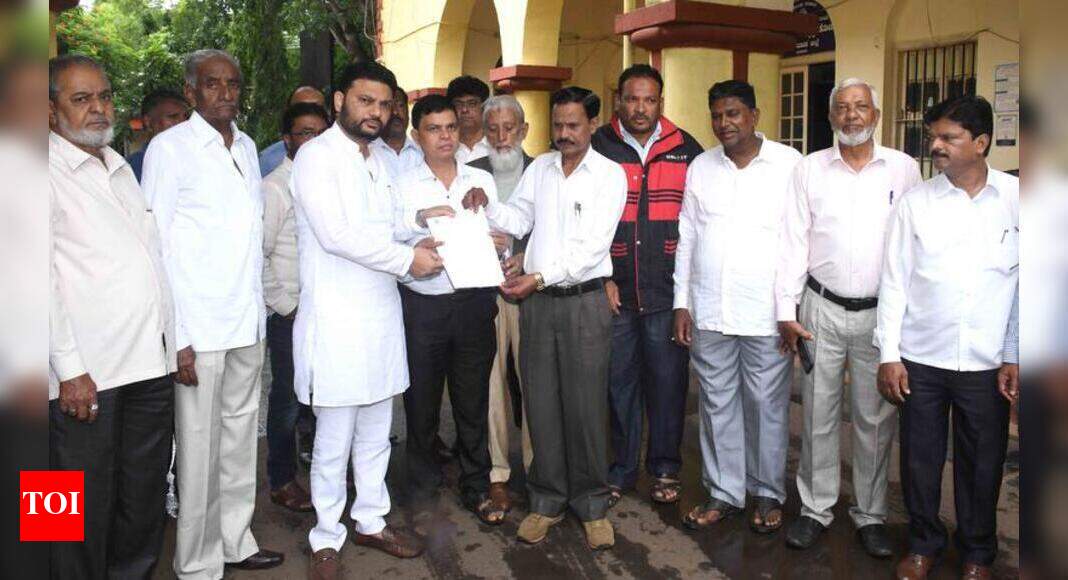 Dharwad: Activists from outfits, which transcend affiliation and religious denomination, gathered in Dharwad on Thursday to protest against the brutal murder of Kanhaiya Lal, tailor, in Udaipur in Rajasthan. Protesters demanded capital punishment for the killers of Lal, Riyaz and Mohammad Gaus,
Members of the Muslim community united under the banner of Anjuman-e-Islam to express their outrage at this heinous crime and their sympathy for the victim and his bereaved family. Participate in a rally that ended at the office of the Deputy Commissioner of Dharwad, where they submitted a memorandum demanding that the attackers receive the death penalty in three months.
Former Anjuman-e-
Islam
President Ismail Tamatgar sought to remind the people that Islam is a religion of peace, which does not tolerate acts harmful to the interests of the land. "Speaking out against a democratically elected prime minister is a criminal offence. Moreover, an act of such violence proves that Riyaz and Gaus are not followers of
Islam
. They appear to be involved in terrorist activities," Tamatgar said.
Meanwhile, activists from the Vishwa Hindu Parishad (VHP), Bajrang Dal and BJP gathered at the Swami Vivekananda Circle, to condemn the barbaric act in Rajasthan. Protesters warned of a massive public revolt against Congress if the Ashok Geholt-led government in Rajasthan fails to curb the activities of life-threatening individuals and organizations.
They highlighted the different avenues available to dissidents to express their opinion in a democratic framework and to express their indignation towards those who had taken the law into their own hands. "Killing someone for little more than expressing support for a BJP leader on a social media site simply cannot be justified," they said.
They called on the Center to take stern action against those who seek to disrupt order in society. The government must ensure that the killers receive the death penalty.
SUCI(S) members also condemned the horrific murder of Kanhaiya Lal, urging the government to take tough action against Islamic extremists. In a statement released by the party to the media, SUCI(S) made it clear that bloodshed could not be tolerated in society. "Kanhaiya Lal's murder sparked unrest in society. The two attackers have been arrested and they must be punished. People from both communities should work to establish peace and harmony in society," the statement said.