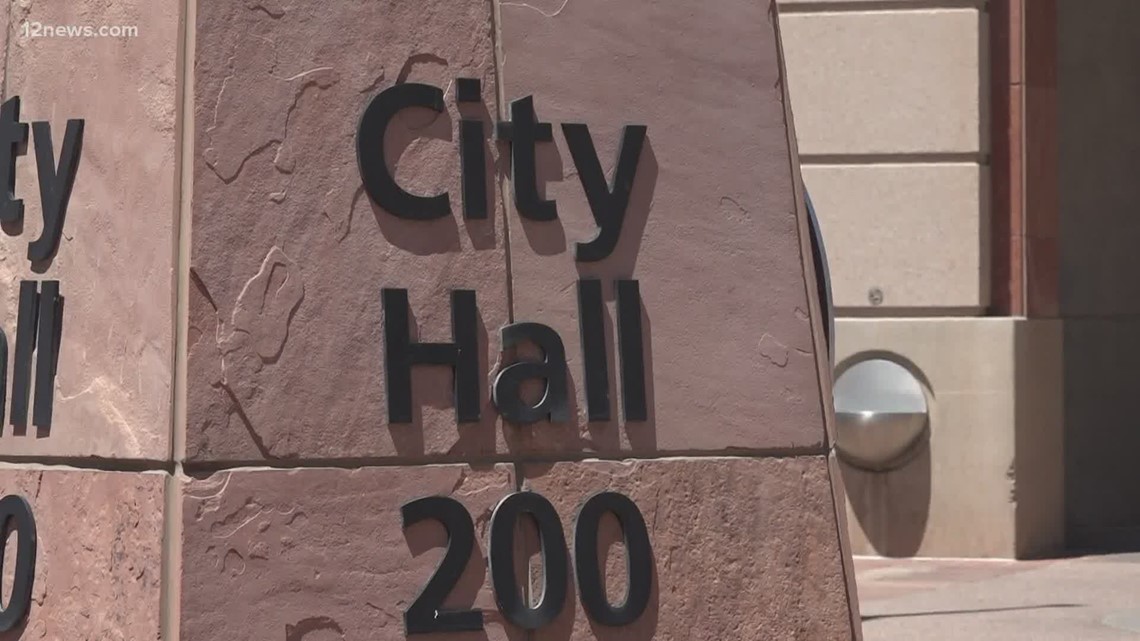 [ad_1]
Muhammad Muhaymin died in police custody in 2017 while being strangled by a Phoenix police officer.
PHOENIX – Phoenix City Council on Wednesday voted 7-2 in favor of approving a $ 5 million settlement deal with Muhammad Muhaymin's family nearly five years after Muhaymin died in custody in Phoenix.
Muhaymin was face down and handcuffed, telling officers "I can't breathe" a few minutes before he passed out and died.
Muhammad Muhaymin Jr. passed away on January 4, 2017, near the Maryvale Community Center in Phoenix. Police said they were responding to a complaint and arrested Muhaymin after learning he had an outstanding warrant.
Today, nearly five years later, Phoenix city council voted to determine that the city will pay $ 5 million to settle a federal lawsuit filed shortly after Muhaymin's death.
"When this happened he was homeless and suffering from a mental illness. But he was much more than that, "said Muhaymin's sister, Mussallina Muhaymin. "So the fact that they used deadly force and brutalized him on an arrest warrant is unacceptable. There was no reason to treat him that way.
Body camera video first shown within a month of Muhyamin's death showed several police officers beating him to the ground and Muhaymin resisting arrest. Sometimes officers tell her to relax but also use name calling. Muhaymin is heard asking for his sister and screaming that he couldn't breathe.
Federal lawsuit demands $ 10 million from city, police
The federal lawsuit sought $ 10 million in damages and named 10 police officers and a city recreation worker as defendants.
Muhaymin's family and their lawyers said in the lawsuit that the incident started when Muhaymin attempted to bring his small dog into the toilet with him. He named the dog Chiquita and the lawsuit said she was a service dog to help him manage mental illnesses, including claustrophobia, schizophrenia, and post-traumatic stress disorder.
Additional police officers arrived after receiving a complaint and attempted to arrest Muhaymin under the warrant.
In the body camera video, officers instructed Muhaymin to shoot the dog and force him to leave his arms. He repeatedly asked to call his sister first to help take care of the dog.
The trial and body camera video show Muhaymin was taken to the ground once, then walked to a police vehicle and taken to the ground a second time. There he shouts: "I can't breathe!"
Eventually, he vomited and the officers realized that he had no longer a pulse.
The police attempted CPR for several minutes but were unable to resuscitate him.
An officer said audibly: "he is dead".
The agents did not break the law or the policy
Ten police officers were named in the federal lawsuit as having some involvement in the death of Muhammad Muhaymin Jr. However, only four have been reviewed or investigated for possible foul play, records show from the Maricopa County District Attorney's Office.
In 2018, the county's Custody Death Review Board found that none of the four police officers had broken the law.
RELATED: Chief Williams: Phoenix PD to Immediately Suspend Use of Carotid Control Technique
"It is the opinion of this council that the officers did not commit any act that warrants criminal prosecution," a letter of determination said in part.
Officer Oswald Grenier retired in 2020 and Officer Ronaldo Canilao retired in 2021, according to publicly available documents. Agents David Head and Jason Hobel remain in the force.
The Phoenix Police Department provided an email statement that none of the 10 officers named in the lawsuit were disciplined after Muhaymin's death, but were investigated by the Bureau of Professional Standards and was found "in politics".
Chief Williams declined an interview request for this story.
Belly Restraint Under National Review
Muhaymin's death gained national attention following the murder of George Floyd in Minneapolis in 2020.
The two men were restrained by officers who handcuffed them while each shouted that they could not breathe and ultimately lost their lives.
"It's now that I have a voice, it was highlighted what happened here in Phoenix, especially in George Floyd's place because it was so similar," Mussallina Muhaymin said.
RELATED: Phoenix Police Union Disagrees With Decision To Ban Choke Holds
However, the danger of keeping someone down and restricting their airways has been known to police and police officers for years before Muhaymin and Floyd were killed.
A 2020 TEGNA Media investigation found that at least 107 people across the country have died face down on the ground since 2010. Their deaths have led to more than $ 70 million in settlements and verdicts across the country. country.
All of this, which continued for decades after the Justice Department released a report through its National Institute of Justice program in 1995 telling officers, "As soon as the suspect is handcuffed , remove it from his stomach. "
"In a recent analysis of deaths in custody, we found evidence that unexplained deaths in custody are caused more often than is generally believed by a little-known phenomenon called positional asphyxia… a person lying on their stomach has a hard time. to breathe when pressure is applied to his back, "the report read.
"And people lose their lives and they keep losing their lives. It's frustrating, it's hurtful, "Mussalina said. "I have a son, don't I? I have a daughter, I have grandchildren, how long will this continue to happen? My grandchildren, I want them to grow up in a world where they can have a better relationship with our officials and not care, you know they can be manipulated or mistreated or differently.
Watch the full voting process below:
Up to speed
Follow the latest news and stories on the 12 News YouTube channel. Subscribe today.
[ad_2]