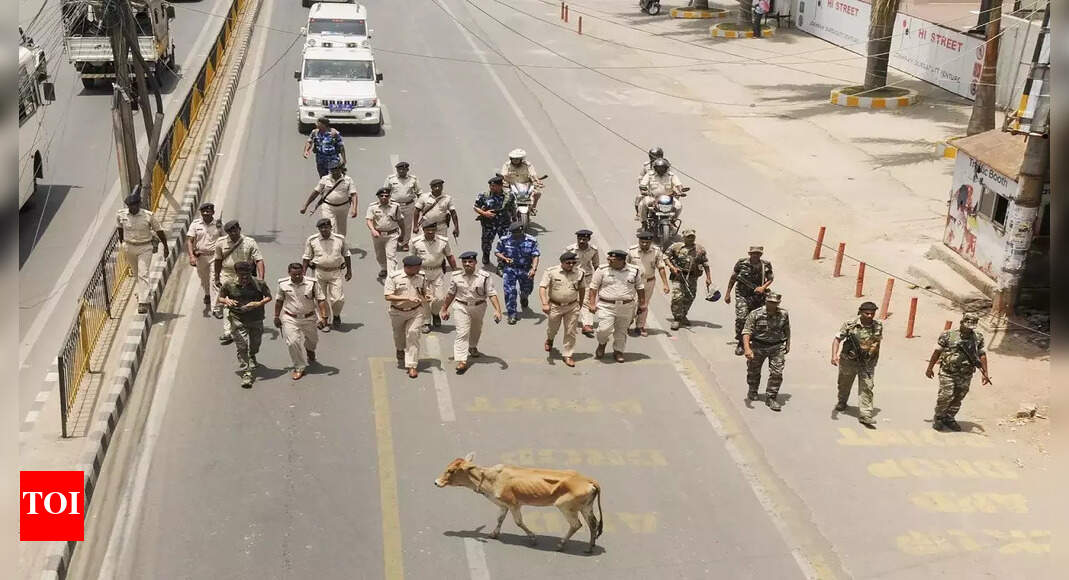 Police and security personnel hold a flag march in the violence-hit town of Ranchi. (Picture PTI File)
RANCHI: Twenty-nine people have been arrested so far in connection with the violence that erupted in Ranchi, the capital of Jharkhand, after Friday prayers June 10, while investigations are underway to identify the disbelievers and prevent any new community tension, police said Wednesday.
Two people were killed and more than two dozen seriously injured as protests and clashes over controversial remarks by now-suspended BJP leaders rocked the city on June 10.
Tension continues to reign in the capital with CrPC Section 144 restraining orders still in place in parts of the city, and security deployment has been stepped up to prevent a repeat of Friday's chaos .
"A total of 29 people have been arrested so far in connection with the violence. Twelve of them were taken into custody. arrest to prevent the commission of recognizable offences)," Jharkhand police and IG (operations) spokesperson Amol V Homkar told PTI.
Around 3,500 police stand guard in Ranchi, with RAF deployment extended for the week in particularly sensitive areas, he said.
Homkar also said that among those arrested is a certain Nawab Chishti, who is believed to be one of those who provoked the protesters through social media posts.
He said police are monitoring the situation closely.
"The situation is under control…we are investigating the matter. The police are taking all possible measures to prevent any further outbreak," city police superintendent Anshuman Kumar told PTI.
More than 22 people were arrested by name, along with thousands of unidentified individuals in 25 FIRs after Friday's violence.
Ranchi Subdivision Magistrate Deepak Kumar Dubey told PTI that restrictions on public movement were still in place in Kotwali, Lower Bazar, Chutia, Daily Market, Doranda and Hindipiri areas.
According to a RIMS official, seven injured people are still being treated at the medical facility, including 24-year-old Nadeem Ansari, who is fighting for his life.
Jharkhand Governor Ramesh Bais had summoned DGP Neeraj Sinha and other senior Raj Bhavan officials on Monday, seeking to find out why preventive measures or crowd dispersal actions had not been taken during the unrest.
Bais also questioned why police personnel weren't wearing protective gear during the unrest. He asked the police to release posters of those involved in the protests so they could be identified.
The director general of police, for his part, told Bais that only 150 people were expected at the protest, according to an Intelligence Bureau (IB) report, but that thousands joined.
FOLLOW US ON SOCIAL NETWORKS
FacebookTwitterinstagramKOO APPYOUTUBE