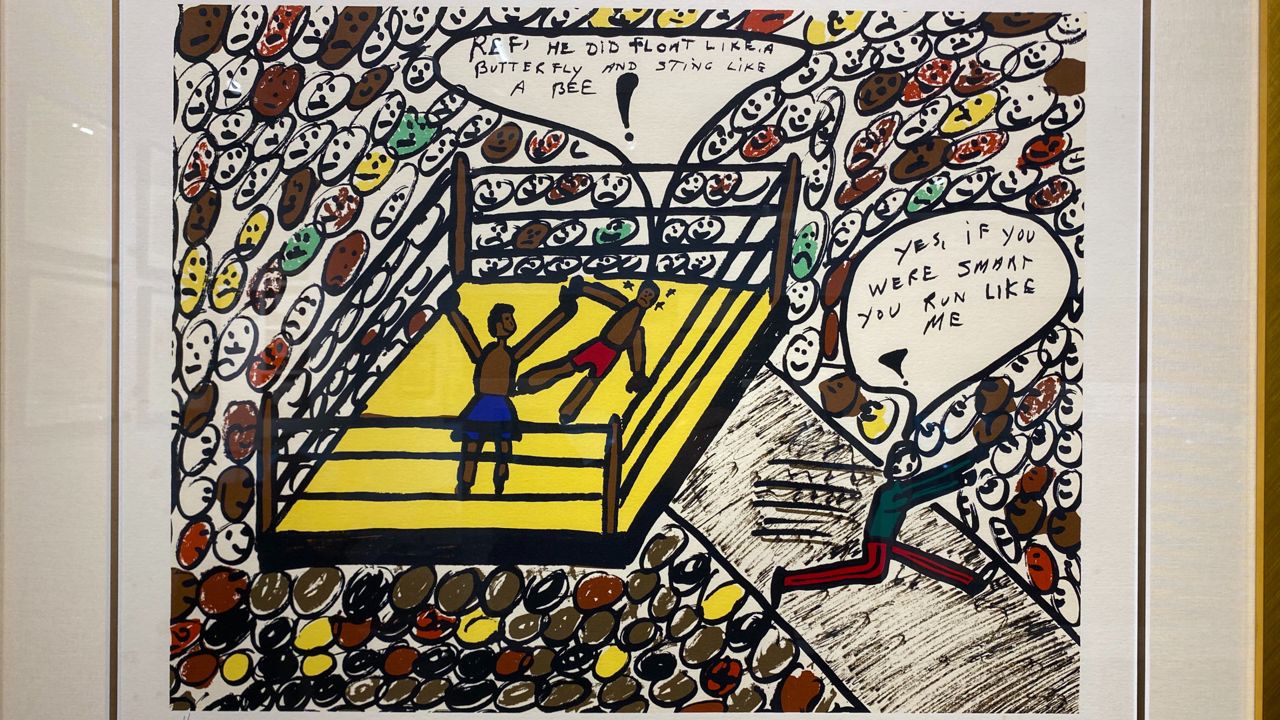 When Muhammad Ali was filming the historic television drama Freedom Road in the late 1970s, he painted a boxing scene and included one of his famous poems in it. The poem says "Ref, he floated like a butterfly and stung like a bee," and the runaway ref said, "And if you were smart you would run like me. "
The painting is just one of the works of the 2016 heavyweight champion boxer and activist, which is part of an auction on Tuesday at Bonhams Auction House in Midtown. Ali's artwork is from the collection of Rodney Hilton Brown, a longtime friend of the man known as "The Greatest". Brown had taken over a bankrupt Soho Art Gallery in the late 1970s and met Ali after a charity fight in Boston, hoping he would paint limited editions for him.
"I told him if I could put a brush in those hands I think something is going to come out on a different canvas," said Brown, who says at that point Ali smiled because he was already painting. He had learned from his father Cassius Clay Sr. Brown and Ali met later and as Brown says, the rest is history.
The work covers many themes, from boxing to social justice. There are also paintings by Clay Sr., including one of Ali Odessa's mother. Bonhams popular culture director Helen Hall says when she first saw Brown's collection she got goose bumps.
"I think the works are so amazing, they are so moving because these are subjects that were so close to Ali's heart, so yeah, I was really blown away," Hall said.
Describing his relationship with one of the most important figures of the 20th century, Brown says they had fun. He points to two auctioned paper planes that Ali had made and thrown at him. He says he's ready to part with his collection, which he says has sat under his boxed dining table for over 40 years.
"Believe it or not, I'm 78 and I don't have a Great Pyramid so it has to go away, everything has to go," said Brown, who added "Everything needs to be shared with the world now."
Learn more about the auction at bonhams.com/auctions.