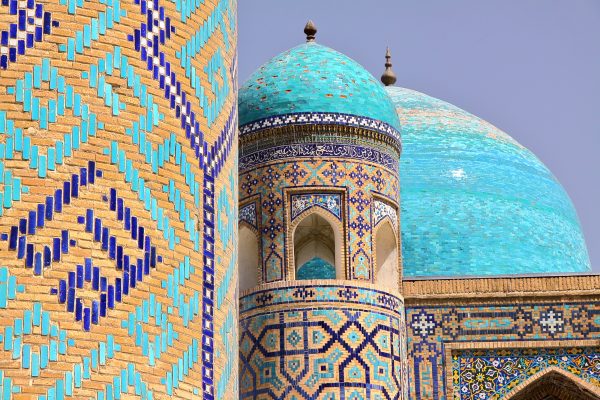 As protests unfolded in Karakalpakstan in early July, popular religious figures and representatives of religious institutions rushed to remind the Uzbek people that peace is the greatest blessing.
Islam has a profound influence on the people of Uzbekistan and its role in society is only growing. The State Committee for Religious Affairs in Tashkent estimates that 94% of the country's inhabitants are Muslim. The US government places its own estimate slightly lower, with Muslims making up around 88% of the population. As of 2020, 2,097 of the 2,281 officially registered religious entities across the country are Islamic entities (mainly mosques), including 15 centers and 13 educational institutions. For comparison, there are only 38 registered entities of the Russian Orthodox Church.
Karakalpaks took to the streets on July 1 and 2 to protest proposed constitutional changes that would remove the region's self-governing status. Immediately afterwards, popular religious figures and representatives of the country's Islamic institutions began to make public speeches about the situation. In most cases, they prioritized peace and unity over possible casualties. On July 2, Shamsuddin Bahauddinov, qozi (judge) of the Muslim judiciary of Karakalpakstan, in a video message calling on people to appreciate the time of peace, because "peace is a great and priceless blessing". On July 3, Mufti Nuriddin Kholiqnazarov, chairman of the Muslim Council of Uzbekistan, who was in Makkah at the time, filmed a video address for the Uzbek people, reiterating that "the country's peace and prosperity are the most important question".
Notably, they did not assign blame to any side for the unrest.
These public comments are important because they highlight the growing importance of Muslim leaders in Uzbekistan. In everyday life, excluding political and security issues, adherence to the canons of Islam has become important to locals over the past two decades. The public turns to Muslim scholars for advice on various issues. Given the respect the religious leaders enjoy among locals and their growing following, it is also possible that Bahouuddinov and Kholiqnazarov were asked to make public statements about the unrest.
In Uzbekistan, Muslim religious scholars and imams generally do not discuss political issues or offer their analysis of political situations, whether global or local. They mainly teach on socio-economic issues, such as the Islamic way of life, behavior, economic activities (trade, loans, business), marriage and divorce, food, etc. Yet amid Karakalpakstan's unrest, some other popular Muslim preachers have gone a step further calling for peace.
Abror Mukhtor Aliy, a well-known blogger, deputy director of the "Teaching Quran Tajweed" department at the Muslim Council of Uzbekistan and honorary doctor of the International Islamic Academy of Uzbekistan, reminded his audience that there are " politicians' jackals who eye Central Asia, including Uzbekistan. He blamed conspiracies and inciting unrest, constantly referring to an unnamed "alcoholic, disreputable" person who provokes others. "The conspiracy is like a sleeping snake. Whoever wakes him up will be cursed by Allah," he concluded in a video that has been watched by more than a quarter of a million people so far on YouTube alone.
In his next speech on July 3, Aliv called on everyone to stay home, urged parents to prevent young people from joining protesters and urged young men to go home for the love of Allah. . Specifically blaming "globalists, homosexuals" and bloggers inside the country, Aliy argued that "everyone who tries to 'liberate' the people of Karakalpak is traitor. Because the Karakalpak are not slaves. Although Aliy specifically mentioned the reporter Agnieszka Pikulickael-tuz (a local online satirical newspaper), Ko'zgu.uz (a local online media) and a few others, accusing them of intermittent provocations on different topics, he did not name anyone in particular whom he considered responsible unrest in Karakalpakstan.
Another famous Muslim scholar, Mubashshir Ahmad, in a speech written on July 3, called on the people of Karakalpakstan to be "calm", "cautious" and not to fall under the influence of "external forces". He also noted that given the ongoing environmental crisis in the Aral Sea basin and socio-economic problems, "the demand for independence could lead to many losses."
The latest relevant article on the importance of peace was published on the official website of the Muslim Council of Uzbekistan on July 19. In this short article, the Imam of the Sayfiddin Boharzi Mosque in Bukhara, Ravshan Kamolov, quoted some hadiths on how Muslims should not fight. Recalling the unrest in neighboring Kazakhstan (not the unrest in Karakalpakstan), Kamolov noted that the riots caused a lot of grievances "in that country" and "as a result many innocent people died, children were left without a father , women were left without husbands."
It should be noted that while some prominent religious figures have pointed the finger at all sorts of "others" – both among fellow citizens and outsiders – for the unrest, there is no clear evidence to date of outside influence on the Karakalpakstan protests.