Friends of Ms Haidari told Shepparton Magistrates' Court on Thursday of the anxiety the 21-year-old felt over the engagement and several cases where attempts to end the marriage were ignored.
They said Ms. Haidari, a social and bubbly young woman, "wanted to be free" and felt her future was taken by her family.
The court also heard that Ms Haidari was engaged to another man for about two years before her wedding in 2019, but the engagement was broken due to a feud between the families.
Ms Khan told the court the student was deeply unhappy about marrying Halimi, but feared her mother would get angry if she shared his feelings.
Loading
She described a case on Ms Haidari's Henna Night – an Afghan ceremony the day before a wedding in which a bride's hands and feet are decorated – where Ms Jan threatened to hit her daughter if she didn't. was not smiling.
"Her mother asked me to go tell Ruqia to smile or else 'I'm going to go on stage and hit you' because people weren't happy that she didn't smile," she said. .
"She [Ms Haidari] didn't say anything. She just gave a fake smile and she had tears in her eyes.
Ms Khan said Halimi was rejected as a potential suitor because she was too old by another family in Shepparton, but due to Ms Haidari's previous engagement, "she couldn't really marry a good boy, she was therefore quite limited in her choices ".
In her testimony, she also claimed that Halimi made unwanted sexual advances to Ms. Haidari on at least two occasions, including on their wedding night.
The court heard that several people from the Afghan community of Shepparton approached Ms. Jan to share concerns about the marriage, but their advice fell on deaf ears.
Witnesses told court it was frowned upon for foreigners to interfere in family matters, such as marriages, in Afghan culture, and said Ms Haidari was reluctant to seek help for this reason. .
Afghan community leader Zahra Haydar-Big recalled approaching Ms Jan at a local mosque begging her to let her daughter graduate from college before getting married. However, according to her, the mother said Halimi was pressuring the family to celebrate the wedding earlier.
When Ms Haydar-Big asked if the family knew Halimi enough to trust him, Ms Jan reportedly told her 'Whatever happens, we're going to blame Shukria [Muqadas]», The matchmaker.
Ms Haydar-Big said Ms Haidari was told she would be able to fulfill her dreams and study at university after the wedding, but those plans never materialized.
She told police that Ms Haidari told her that she didn't want to marry someone she didn't like and that she wanted to wait until she was 27 to get engaged. But in Afghan culture, it was a great source of pride for families to marry young girls, Ms. Khan said.
Jennie Patterson, coordinator of the local English center, said Ms Haidari often spoke of feeling miserable and helpless during their two-hour driving lessons.
"She felt like her choices and her future were taken away from her," Ms. Patterson told court.
"As the wedding approached, I noticed that Ruqia was getting more and more upset and anxious. She told me that she had tried everything to convince her mother … but nothing was working.
Ms Patterson said Ms Haidari feared her family would be ashamed to leave Shepparton if they did not marry Halimi.
On Wednesday, the court heard that Ms Haidari had only spent half an hour alone with Halimi before her family was asked to vote on the engagement. The next time the couple saw each other in person, it was at their nikah, an Islamic religious ceremony to confirm their marriage.
During a four-hour cross-examination by defense attorney Shaun Ginsbourg, a friend of the Shukria Muqadas family said she arranged the engagement at the request of Halimi's sister, who lived in Pakistan and was a close friend of hers before migrating to Australia.
Ms Muqadas said Ms Haidari initially told him that Halimi seemed "a good man", but before their scheduled third meeting he stopped responding to her calls and texts.
It is alleged that Ms Haidari contacted the Australian Federal Police's anti-human trafficking team in August 2019 and told officers she was threatened and coerced into joining the union.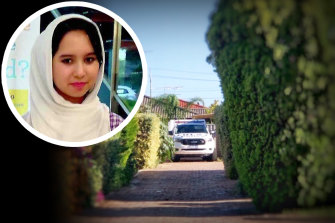 When Halimi was sentenced to the WA Supreme Court in August, the court heard the couple move into Halimi's home in the northern Perth suburb of Balcatta, but their relationship quickly became strained after Ms Haidari repeatedly rejected Halimi's attempts at intimacy.
On the morning of January 18, 2020, the couple were arguing over their relationship when Halimi grabbed a stainless steel kitchen knife and slit Ms. Haidari's throat twice before surrendering to the police.