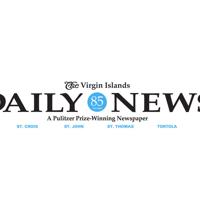 Hafeezah Muhammad, owner of Youme Healthcare, is busy making waves in the business world.
As a 2022 SheEO Venture U.S. Semi-Finalist, Muhammad is proud that despite being from a small island like St. Thomas, she can hold her own as a national nominee.
"To even come to this is a phenomenal experience," she said. "It makes me proud. I'm from the Virgin Islands and I'm here with all these phenomenal women who said I deserved to move on. It's an incredible feeling. I just want to inspire kids in the Virgin Islands to know that you can start on a small 32 square mile island and end up being a CEO.
Muhammad graduated from Ivanna Eudora Kean High School in St. Thomas in 2000. She was an executive at Verizon for 13 years before becoming vice president of sales and customer experience for one of the largest companies in mental health in the United States, Thriveworks, which provides advice. and psychiatric services. It was there that she found her passion for children's mental health and well-being.
In October 2020, during the pandemic, Muhammad's son was struggling and she could not find him adequate care as digital mental health care was not readily available.
"Mental health care for children would always be done in person because people were worried that children wouldn't do well on telehealth," Muhammad said.
"I thought it was such a great opportunity and I never want another child to go through what I was going through as a parent ever again," said Muhammad, who started Youme Healthcare to address this issue.
"It was one of those times when it was the right thing," she said. "After almost 40 years of my life, I finally found what I wanted to do for the rest of my life."
Muhammad assembled a team and opened Youme Healthcare in April, offering online mental health and psychiatry services for children.
It now has 25 direct employees and 20 practitioners working alone under contract with the group. In less than a year, they've seen over 150 clients and conducted over 1,200 virtual sessions.
"It was a phenomenal experience to have a real impact on children who need help and support in crisis," she said. "So far we have had at least five children who were actually suicidal. Their parents were trying to find cures for them, but they didn't know how badly they were in crisis. We were able to get involved and we saved their lives. One of the girls, 12, had already written her suicide note. The mental health crisis for children has worsened dramatically. Since the pandemic, they see an increase in suicides among middle and high school students and mental health crises start younger, as young as 5 years old.
Muhammad points out that mental health problems in adults often start as a result of something in childhood, an accumulation of years of stress without the tools to deal with it. By learning to deal with problems in childhood, they can learn good coping skills that they will carry over into adulthood.
"Looking back and reflecting on my childhood in the Virgin Islands, I had to go through several hurricanes as a child and you saw friends or family members who went through gun violence, wow, that's trauma, but we don't recognize that as a trauma growing up in the Virgin Islands," she said. "We're resilient people, but it's still a trauma. Many don't realize the impact of the long-term trauma and I wish there were more resources available when I was a kid.
With the success of YouMe Healthcare, Muhammad has been offered two exciting opportunities.
SheEO, an organization that supports businesswomen worldwide, named her one of 13 semi-finalists in its annual competition, putting YouMe Healthcare in the running for a $100,000 interest-free loan to advance the company.
Three women will be named SheEO for the year – one from the US, Canada and the UK – after a lengthy review process that begins with thousands of applicants.
The money comes from a group of women who invest in other women-owned businesses.
The winners will be announced on February 10.
On Monday, Muhammad will also be a presenter for the Interactive Advertising Bureau's annual executive meeting. The Advertising Trade Organization develops industry standards, conducts research and provides legal support to the online advertising industry.
She will explain how the Internet powers Main Street.
"I'm very excited," Muhammad said. "On the event website, my biography and photo are on the same line as these great executives. I am a Eudora Kean girl from the Virgin Islands and my photo is close to the CEO of L'Oréal and just above the COO of TikTok and I speak as a presenter.
Although she now resides in Maryland, Muhammad's dream is to grow the business and then share its success with those left behind in the Virgin Islands.
"My ultimate dream is that once we grow this business and are able to be successful, I want to start a venture capital fund for people in the Virgin Islands who want to become entrepreneurs and have the capital and l "expertise needed to help build a business and scale it to become financially sufficient. If I could provide that capital, that's my dream," she said.