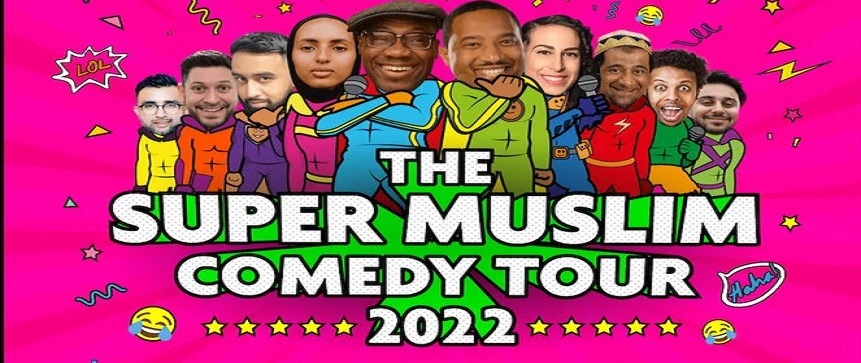 Comedy is used for therapeutic purposes by many and as a way to connect people through the power of laughter.
Believing in the power of laughter, the seventh edition of the Super Muslim Comedy Tour is set to return to the UK on October 21.
The tour will include live performances in 10 cities across the UK. Cities include London, Manchester, Birmingham and Glasgow, through October 30.
📚 Also Read: Let My People Laugh: The Impact of Comedy on Muslim Youth
This year's event, which received an award at the British Muslim Awards 2022, is organized by Penny Call humanitarian charity.
Proceeds from the tour will benefit people who have lost their livelihoods due to the recent floods in Pakistan.
"The range of comedy styles and unique voices are guaranteed to keep you laughing all night long," said Penny Appeal, Arab News reported.
"Acts range from Fathiya Saleh – a Londoner with Yemeni-Somali roots – to Atheer Yacoub, a Palestinian-American comedian from Alabama who has a half-hour special on Comedy Central Arabia, has been featured on AXSTV's Gotham Comedy Live, (and ) has also written for Emmy-winning channel BRIC TV on The Breakdown and Passport Control.
entertain muslims
Tour co-founder Yousaf Razaq said the event is "entertainment that has filled a void and speaks to the three million Muslims in the UK.
"It's an environment where you can take a 5-year-old, you can take a 95-year-old, you can take your mom, your sister, your daughter, your aunt, go have some family fun and literally just have a belly of laughter and in the process donate money to charity," he said.
📚 Read also : Halal laughter and Muslim happiness
Fathiya Saleh, Abdullah Afzal, Azeem Muhammad, Preacher Moss, Muhsin Yesilada, Farhan Solo, Atheer Yacoub, Salman Malik and Prince Abdi are on the tour this year.
Azeem Muhammad, will fly from the United States to participate in the tour. He will share his experience as a Muslim man in America and talk about his conversion to Islam.