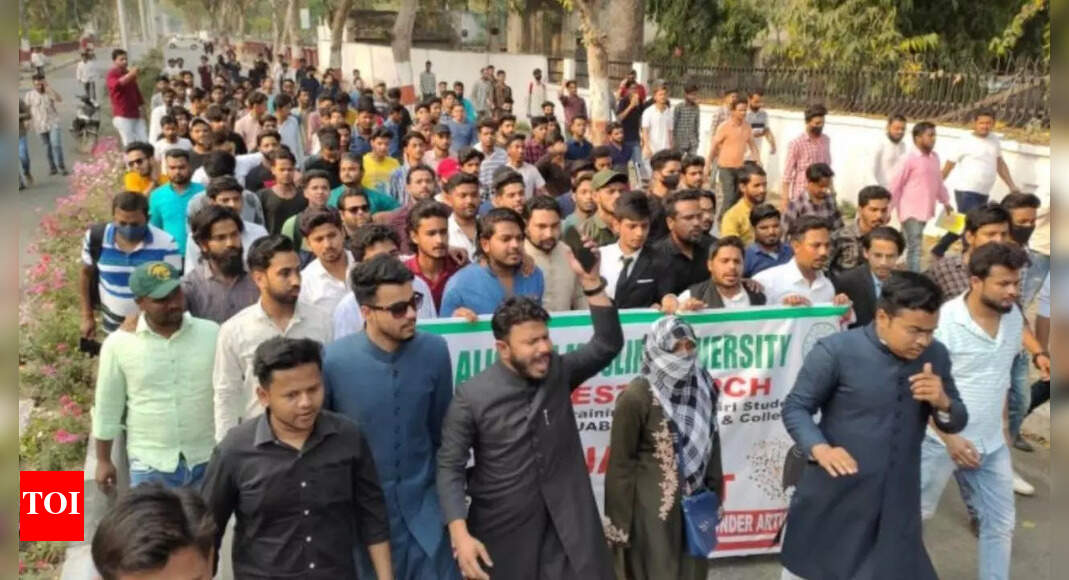 AGRA: Aligarh Muslim University (AMU) students staged a protest march on the university campus on Monday to oppose the Karnataka government order and High Court judgment barring female Muslim students from wearing a "hijab or headscarf" in educational institutions.
The protesting students submitted a memorandum to the President of India through the local government, demanding an ordinance to "preserve the right to religious freedom prescribed by the Quran and hadith" and protect citizens under the constitutional principles.
In the memorandum, the students wrote: "It creates a vague ban on garments that disturb equality, integrity and public order. Unity in diversity is one of India's distinguishing characteristics. "
The memorandum further stated that covering the body with clothing is a "dignified practice". "Wearing the hijab does not create dissent, does not conflict with constitutional morality or disturb public peace," he said.
The memorandum added: "The essential doctrine of
religious practice
must be applied in the light of the sacred scriptures and if such a question arises before the honorable judiciary, the bench may take the assistance of the Shariah expert for a better assessment of these issues.
Urging the government through the president, the students said the proposed measures must be adhered to for the "protection of the interests of the minority for their existence as individuals and as a society". They demanded that the government decree be rescinded.
The students said, "If people of other religions are allowed to follow their customs, why are Muslim girls prevented from wearing a hijab in schools and colleges? Our hijab is our protection and we feel safe while covering our body.
The protests came days after a three-judge bench consisting of Chief Justice Ritu Raj Awasthi, Justice Krishna S Dixit and Justice JM Khazi delivered a 129-page verdict in the contentious case. The petitioners have now appealed to the Supreme Court to challenge the verdict.