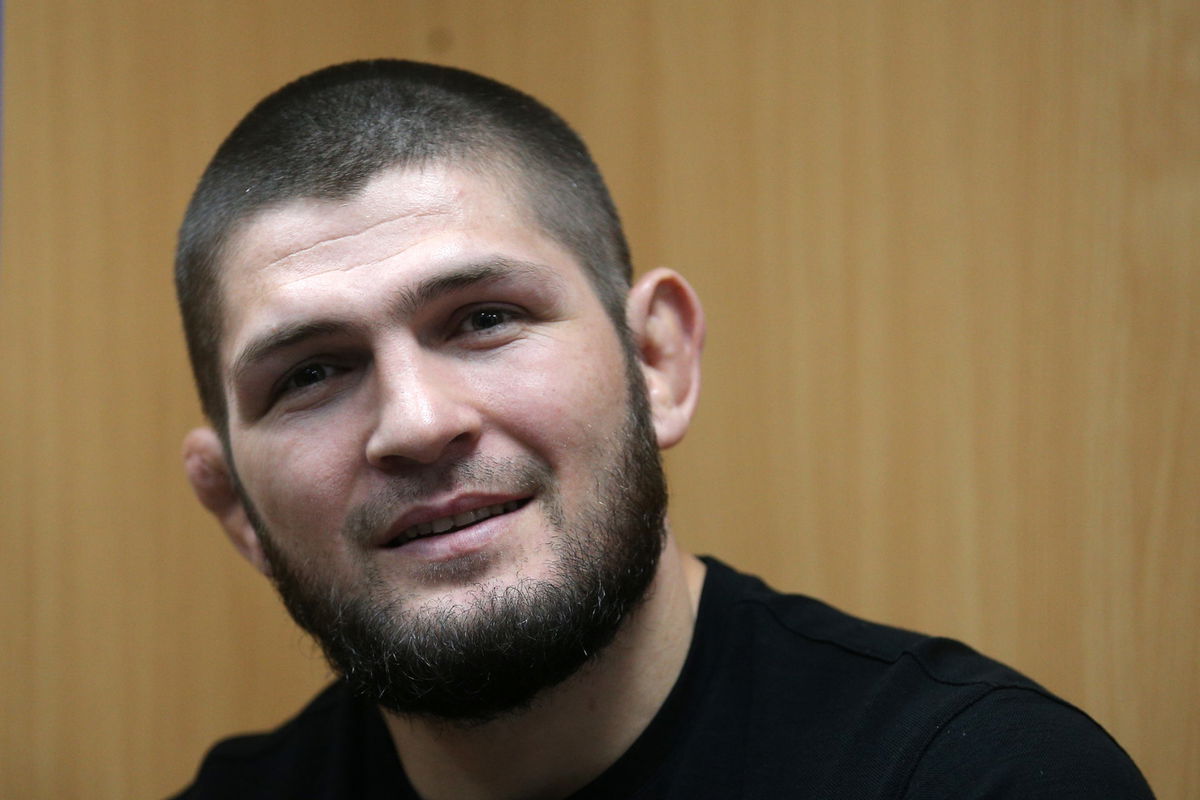 Khabib Nurmagomedov is as shy and reserved outside the octagon as he is furious inside. Unlike many successful athletes, he refrains from bragging. Besides, he remains silent most of the time, and when he talks; he only talks about the game.
ADVERTISING
The article continues below this ad
However, this throwback video caught the candid side of Khabib Nurmagomedov enjoying himself during an interview with the Russian press. In the short clip, Nurmagomedov is seen sitting with a young Islam Makhachev, responding lightheartedly to female fans.
ADVERTISING
The article continues below this ad
When asked how he spends his time outside of fighting, "The Eagle" replied: "I'd like to sleep. I don't involve or spend time with girls. I'm married."
He expressed his passion for food, but also shared that he had to control it being an active fighter then. "Yes, I like to eat, but I control it. Because when you get to 90 kg, but after that it's more difficult to lose weight. That's why I control myself. I like to eat too because that I am also human, Nurmagomedov said.
Later, when asked about his fancy shirt, he alluded to Makhachev. "Brother forces me to buy the shirt," he said as everyone, including him, laughed.
Nurmagomedov can be a little wary of women and refrains from making any controversial statements. Therefore, it was heartwarming for fans to know another side to the former UFC lightweight division champion.
Khabib Nurmagomedov on UFC Ring Girls
The former Russian MMA fighter has never outright opposed UFC ring card girls. However, when he bought his own MMA promotion, he was not eager to have ring girls.
Khabib Nurmagomedov bought Russian MMA promotion Gorilla Fighting Championship after retiring in 2021. He renamed it Eagle Fighting Championship, after his own nickname, "The Eagle". During a press conference on the same subject, he deemed ring girls unnecessary.
ADVERTISING
The article continues below this ad
He cited cultural differences and said he had no problem with people liking them in other promotions. But also said that he too can have his own opinions.
He noted, "Each person has their own preferences – culture and values. I am not against [having ring girls]. If you want, you can do it. But don't force it on me. Do it aside. There are places designated for this. I don't think it should be mixed up. It's my opinion."
ADVERTISING
The article continues below this ad
WATCH THIS STORY: Five times Khabib Nurmagomedov was the funniest guy in the room
What do you think of Khabib Nurmagomedov's hilarious candid interview? Let us know in the comments.
Did you enjoy reading this article? Download our exclusive app to get 24/7 coverage of the latest memes and social media jokes. Click here to download.